High-quality risk management training for dedicated outdoor professionals and recreationalists.

Southern California's best source for Wild

erness Medicine Training
Adventure Risk Management proudly sponsors a wide variety of Wilderness Medical Associates courses- internationally recognized as the finest wilderness medicine training available. Courses include:

Wilderness First Aid (WFA)
Wilderness Advanced First Aid (WAFA)
Wilderness First Responder (WFR- 5 Day Format!)
Wilderness EMT Upgrade (WEMT)
Recertification Courses
Why choose Adventure Risk Management as the sponsor of your Wilderness Medicine Course?
Most courses are offered in the spectacular mountain environment of the San Jacinto mountains, near the town of Idyllwild. Before, during or after your course, enjoy great hiking, mountain biking and world-class climbing at Tahquitz & Suicide Rocks.
Wilderness Medicine Course Discount Program helps make these incredibly valuable courses as accessible as possible.
Stay with Adventure Risk Management: Cumulative discounts for returning students!
Get the Training You Need: Our unique sponsorship arrangement with WMA means rare course cancellations.
SCHWAG! Registered students receive discounts for local outdoor retailers!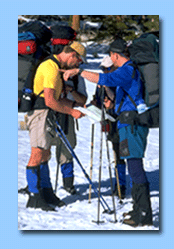 Risk Management Consultation and Program Development
Virtually all Outdoor and Adventure Education programs embrace the value of risk as a means of education and self-discovery. Adventure Risk Management can assist your program in achieving your risk management goals and improve program quality with the insight of some of the industry's most recognized specialists.